Campaign News 2010
After the July group departed Yeghvard on July 28th, they enjoyed their final excursion and last days in Armenia.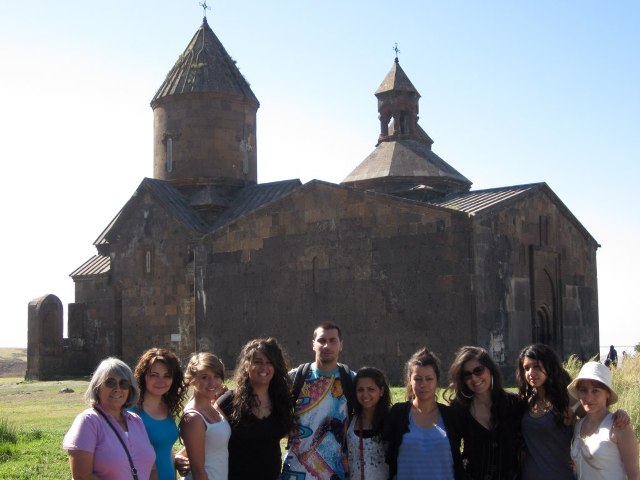 On their way back to Yerevan, they stopped to visit the Saghmosavank and Hovanavank monasteries. LCO had conducted a four-year campaign renovating Saghmosavank in time for the 1700th anniversary of Christianity in Armenia. Saghmosavank's location by the cliffs was very inspiring for the volunteers. Located on the monastery's grounds, is a special khatchkar (stone cross) dedicated to the memory of Patrick Tateossian who volunteered with OTC (LCO's French chapter) in the Kessab and Armenia campaigns. A few years after his OTC/LCO experience, Patrick moved from his native Argentina to Armenia to live and work. Unfortunately, he passed away suddenly in 2002.
For almost a month now, LCO volunteers from the Diaspora and the capital of Yerevan have made Yeghvard in the Syunik region of Armenia their home away from home. They awake and sleep to the sites and sounds of the countryside and farm life. Birds chirping, bees buzzing, farm animals roaming wherever they turn. Yeghvard may be off in the rural distance, but it is not backward. They have a community center that houses a daycare center and a library. Despite the children's joy, the only complaint from the villagers is that there is a lack of water. It is a very difficult life for them to endure the mercy of the weather, limited government resources, and a lack of water to adequately supply the needs of their community.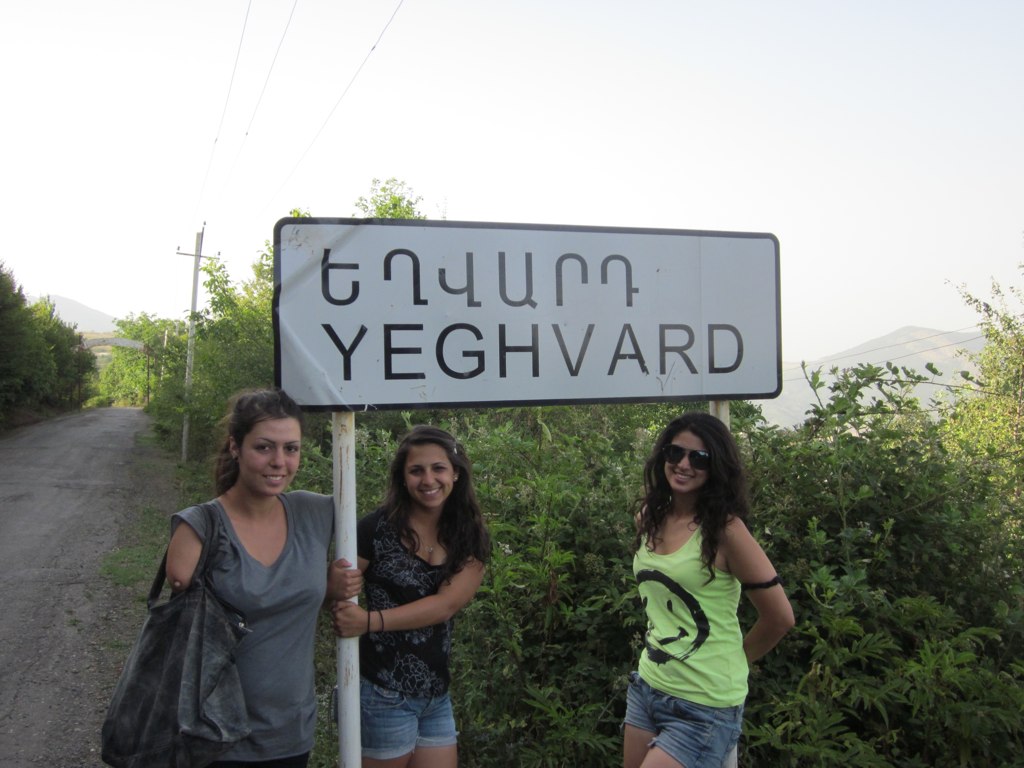 Upon their return from Karabagh, the volunteers were eager to get back to work on the church and surrounding areas of the church's complex. The professional workers were extremely impressed with the level of their skill and the work ethic of our volunteers. They all said it is such a pleasure to work with them and to teach them.
The group continued their work at the Yeghvard site this week. All of the female volunteers decided that they also wanted to do the bricklaying and cement work, besides clearing the church's exterior. Each day, the volunteers are getting stronger and more inspired from their work. They feel a sense of accomplishment and fulfillment in what they are doing. The group wrote their names on a piece of paper and sealed it in a bottle and placed it within the cement of the altar. Now, the volunteers feel that they are physically and spiritually a permanent part of the church.
On July 6th, the group headed on a 13-hour scenic bus journey through Armenia stopping off to visit Khor Virap and Noravank monasteries arriving at Yeghvard late into the night. All the volunteers are in high spirits and immediately bonded. They are staying at a home that is currently vacant so there is plenty of room. However, as with most villages, there is a shortage of water and very basic shower and toilet facilities are available.