July Group Departs As New August Volunteers Arrive
After the July group departed Yeghvard on July 28th, they enjoyed their final excursion and last days in Armenia.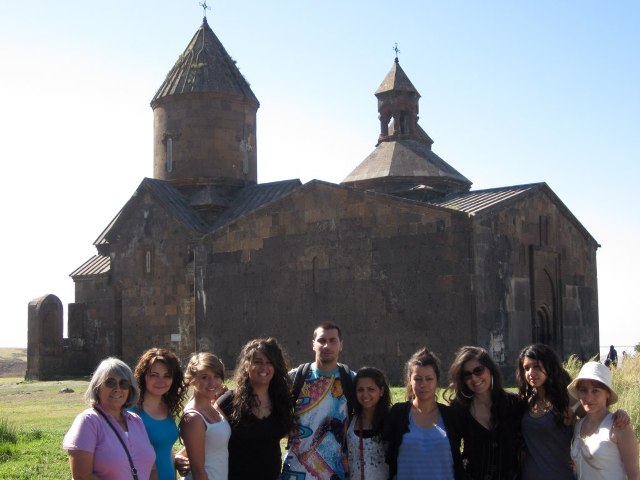 On their way back to Yerevan, they stopped to visit the Saghmosavank and Hovanavank monasteries. LCO had conducted a four-year campaign renovating Saghmosavank in time for the 1700th anniversary of Christianity in Armenia. Saghmosavank's location by the cliffs was very inspiring for the volunteers. Located on the monastery's grounds, is a special khatchkar (stone cross) dedicated to the memory of Patrick Tateossian who volunteered with OTC (LCO's French chapter) in the Kessab and Armenia campaigns. A few years after his OTC/LCO experience, Patrick moved from his native Argentina to Armenia to live and work. Unfortunately, he passed away suddenly in 2002.
After the moving experience at Saghmosavank, they went to Hovanavank where they admired the details of the numerous 12th-14th Century khatckars. Hovananvank was the last countryside adventure before heading back to Yerevan, where they stayed for a few days until their departure. Coming from the simple village life, Yerevan was a bit of a culture shock for them. The group enjoyed the sites and sounds of the "really big city", especially café life. On July 31st, the July volunteers gathered for their last hurrah as a group in Armenia. These new and old friends will forever share their special memories and bond of their time together in a small remote Armenian village living amongst the locals preserving the Armenian heritage.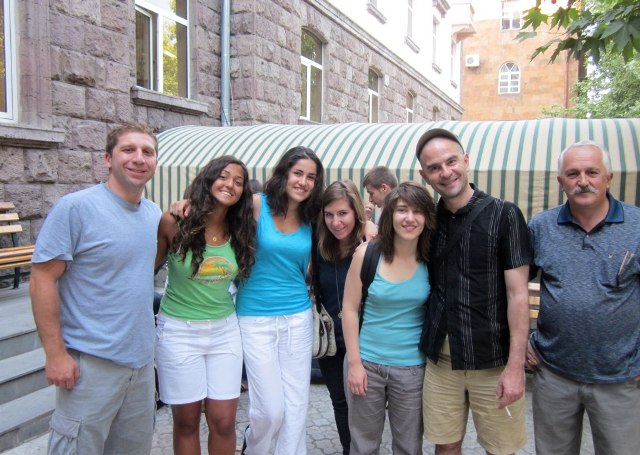 As the July group bid a fond farewell to Hayastan, new diasporan volunteers from France, England, and Syria arrived to continue the campaign during the month of August. Joining the August team is Leah McCloskey and Zareh Petrossian from California, as well as volunteers from Armenia. On August 3rd, 19 volunteers departed south towards Yeghvard, and nine from the French and British contingency headed north to Shirakamut. All the volunteers at the Shirakamut site have previous LCO campaign experience.
Shirakamut is located in the Lori Province near Spitak, the epicenter of the devastating 1988 earthquake. LCO decided to restore the Tchitchkhanavank Church of the village of Shirakamut. Tchitchkhanavank was built on the plan of a Christian cross, typical to the sixth and seventh centuries. This Church was partially destroyed by an earthquake in 1926, neglected during the Soviet era, and again suffering destruction by the 1988 earthquake. In 2008 and 2009, LCO began the archaeological excavations, which revealed the Church's foundation along with ancient tombstones and objects of archaeological interest. This summer volunteers will begin the renovation and construction of the foundation walls of the Church. An archeologist and history professor from Yerevan will be overseeing the excavation at the site.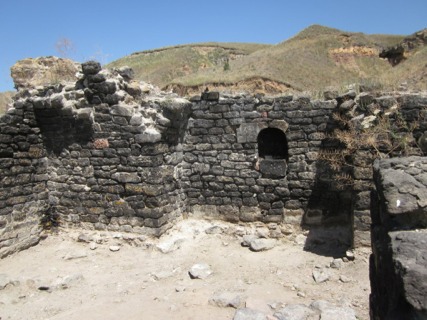 We appreciate and commend the 2010 July Campaign Volunteers for their hard work and tireless dedication to this project and giving a part of themselves back to the land and culture.
July Campaign Volunteers
Ruzanna Apresyan-Yerevan, Armenia
Alique Bedikian – Glendale, California
Nare Davoodi-Montrose, California
Arshile Egoyan-Toronto, California
Talin Khechoomian-Glendale, California
Julie Loosigian-Pelham, New Hampshire
Stephane Nichanian-le Raincy, France
Diana Oganesyan-Tarzana, California
Mark Pilguian-Toronto, Canada
Lori Pogarian-La Crescenta, California
Nicholas Tavoukian-Covina, California
Urfa Vartanian-Walnut, California
Marie Zargaryan-Yerevan, Armenia