Volunteers Settled in and Hard at Work
On July 6th, the group headed on a 13-hour scenic bus journey through Armenia stopping off to visit Khor Virap and Noravank monasteries arriving at Yeghvard late into the night. All the volunteers are in high spirits and immediately bonded. They are staying at a home that is currently vacant so there is plenty of room. However, as with most villages, there is a shortage of water and very basic shower and toilet facilities are available.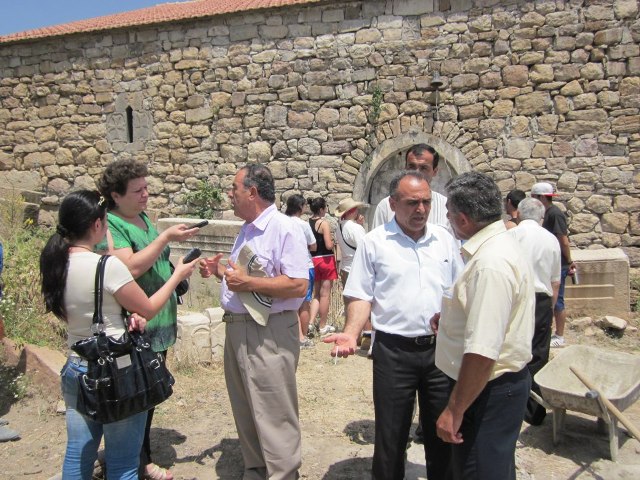 The next morning, television and newspaper reporters came from the nearby regional capital of Kapan (25 minutes away) to witness the launching of this summer's campaign. Our volunteers, board members, and village mayor were interviewed which were published and viewed on local Kapan news.
The Yeghvard renovation project is a continuation of the work that began in 2008 by our French sister organization Organisation Terre et Culture (OTC). This summer, jointly LCO-USA, OTC, and LCO-Armenia will be concentrating on this site.
The volunteers were very excited to begin their work. After the first day, the group began work on the interior of the church and its altar. The group also started clearing around the exterior of the church and digging out khachkars (stone crosses) that were found on the church's complex. As with all our campaigns, the local children were immediately drawn to our volunteers and our activities. In a couple of hours each female volunteer had a crew of three-four young children assisting in the work.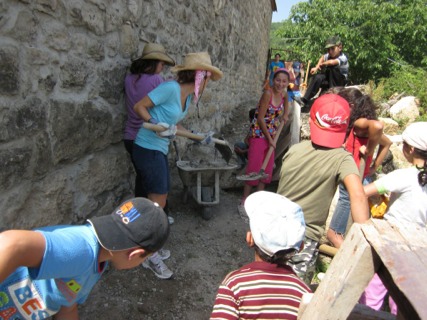 On the weekend, the group took a three-hour drive to the village of Tatev. LCO had previously completed the village's Sourp Minas Church. In honor of LCO's past campaign and its continuous personal support by Nazareth Kevonian, the village hosted a dinner and delightful school program. The volunteers enjoyed touring Tatev, which is a much larger village than this year's Yeghvard site. While visiting the Tatev Monastery, they were amazed by the sheer beauty and location of the historic monastery. Following the excursion, the group returned to Yeghvard to rest on Sunday, so they could continue the mission starting on Monday.
To follow their trip, please continue to monitor the news section and visit our
gallery
where we will post pictures as they become available.