Experiencing the Land and Sacrifice of Karabakh
The group continued their work at the Yeghvard site this week. All of the female volunteers decided that they also wanted to do the bricklaying and cement work, besides clearing the church's exterior. Each day, the volunteers are getting stronger and more inspired from their work. They feel a sense of accomplishment and fulfillment in what they are doing. The group wrote their names on a piece of paper and sealed it in a bottle and placed it within the cement of the altar. Now, the volunteers feel that they are physically and spiritually a permanent part of the church.
On the weekend, they took their second excursion, this time to Karabakh/Artsakh. Their first stop was the city of Shushi. The group witnessed the Shushi Central Regional Hospital where the entire third floor had been renovated by the LCO of France (OTC-Organisation de Terre et Culture) with assistance from LCO-USA and LCO-Armenia (Yergir yev Mushagiut). It had taken eight years to complete this wing and support for this project will continue in the future.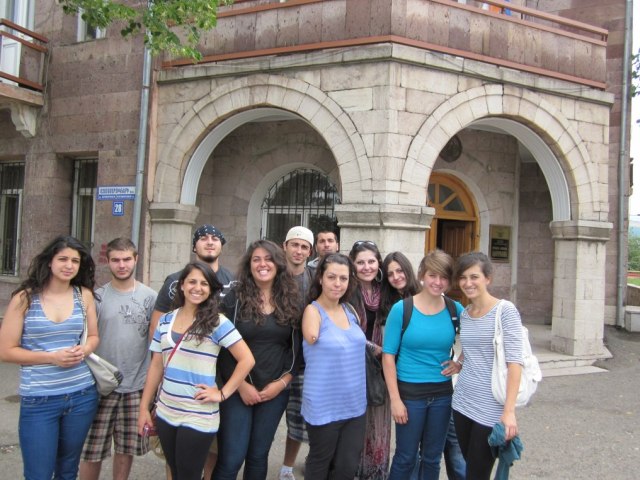 In Shushi, they visited the majestic Sourp Amenaprkich (Holy Savior) Ghazanchetsots Cathedral. It is only one of two surviving churches in the city. The other ten churches were destroyed during the many decades of persecution in this region. The cathedral has now been restored. It had suffered damage from bombings during the conflict. (group photo-Sam can you photo shop to add the cross of the church on the group picture. The volunteers then proceeded from the heights of Shushi down to Stepanakert, the capital of Artsakh, to receive their visas.
The group relaxed to a lunch at a nearby café. Stepanakert is a busy and beautiful little city, very clean and friendly. They enjoyed their time in the ""big" city" after their week in the village.
They headed back onto the highway between Shushi and Stepanakert to view a wartime tank. This tank is now a monument and symbol of the struggle and determination of the people of Artsakh.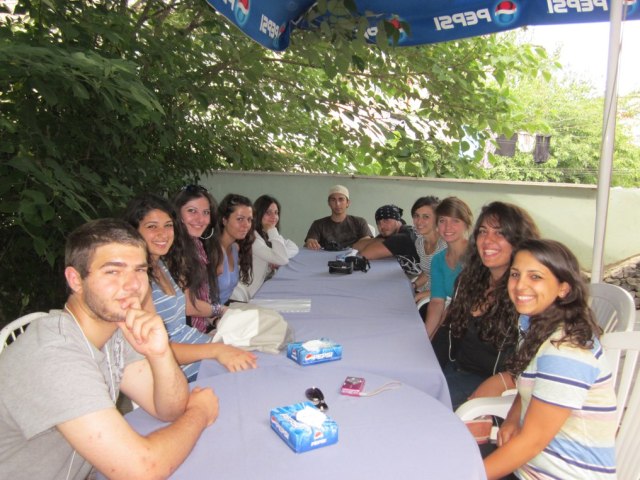 The village of Karintak was their next stop. LCO had implemented a campaign in this village renovating the community center and schoolhouse. Kartintak and its people were instrumental in the capture of Shushi from the Azeri army. The village is located directly below a large plateau situated on a rock, thus the name Karintak "below the rock". The villagers assisted the Karabakh army in finding trails to the top, thus being able to surprise the enemy. Many villagers lost their lives in this endeavor. LCO felt it their duty to assist this village for their sacrifice.
The trip to Artsakh was a very moving experience for the volunteers. They felt a sense of pride that this region was recovered, and also that they participated in a part of history and nation building. The volunteers appreciated the value and sacrifice that the villagers play in the preservation of our land.