On Tuesday, July 18th, the LCO (Land and Culture Organization)/OTC (Organisation Terre et Culture) volunteers headed off to two different campaign sites. One group of 17 LCO/OTC volunteers went to north to the Shirakamut village to work on renovation of the historic Tchitchkhanavank Monastery, and another group of 11 volunteers went south to Yeghvard to finalize the 17th Century Sourp Astvatzatzin Church project. Throughout these two months of July and August, approximately 60 volunteers will be working in Shirakamut, Yeghvard, as well as in Goris.
All the volunteers are a great group of people. They have been bonding socially and while they have been working. We have a mix of English, French, and Armenian being spoken. They have formed a communal family. The first day was an adjustment to the sites, sounds, and smells of village life, but now they have adjusted and are taking in the experience. LCO-USA President Haig Manjikian, Campaign Coordinator Hilda Manjikian, and Public Relations Lena Kaimian accompanied the volunteers to the Shirakamut campaign site to get them settled in.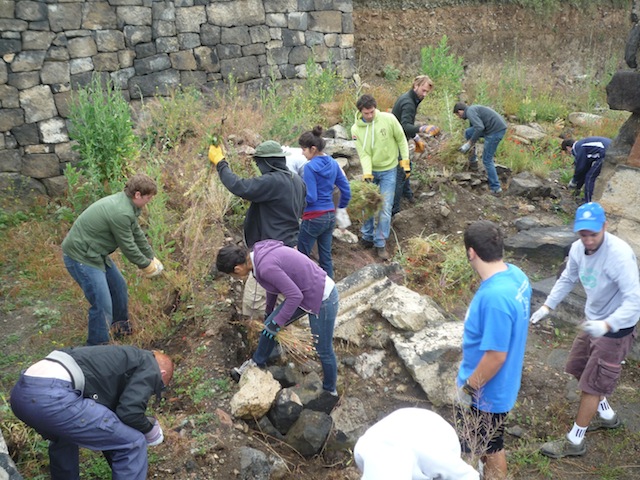 Our historical archaeologist from Yerevan, Arman Nalbandyan is overseeing the renovation project and directing the volunteers' work. On its first day, the group really did an amazing job clearing out the area in preparation for the excavation and renovation work. Arman was impressed of what he thought would take two - three days, the group accomplished in just one. Now they will proceed to the next phase of leveling the surrounding grounds of the church, further clearing of the northern side of the compound in order to expand the perimeter walls, and turning over the tombstones which will reveal ancient artifacts. As they were clearing the area, they already began to find bones and pieces of ceramic. Any historical artifacts will be put aside for the archaeologists and experts to review. Volunteers will have enough time to accomplish their mission of renovating this historical site, while still having time to enjoy each other and the beauty of the Armenian countryside. After their first day at work, they enjoyed a picnic outdoors by a stream where local village men prepared a traditional Armenian barbecue "khorovadz".
The village of Shirakamut, formerly named Nalband with a population 3,000, is located in the Shirak Region near the epicenter of the 1988 Spitak earthquake. The people of Shirakamut are a mixture of original villagers and Armenians that came from Erzerum and Kars speaking a more Western Armenian dialect. Tchitchkhanavank, whose interior has a cross shape, has historical significance as this 13th Century church was founded on a plan of Christian cross of the 7th Century, as well as a pagan fire pit on the monastery's compound. They have already found Byzantine coins and Arabic writing on the wall, which was done in order for them not to destroy the Christian place of worship. LCO has been excavating this site since 2008 with this being the second summer with campaign volunteers.