LCO-OTC Adventures in Armenia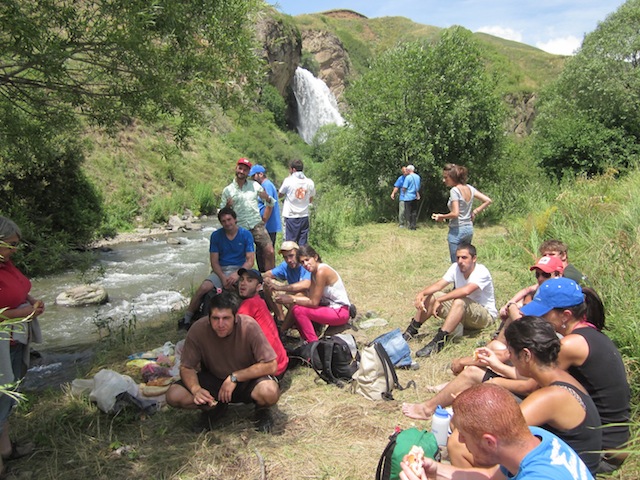 After three days of intense and satisfying work on the church in Tchichenavank, on Saturday, the group took an excursion to a nearby waterfall, the third largest in Armenia. They took a picnic lunch and prepared for a restful day. The volunteers, along with group leaders, piled into two open trucks and headed uphill to the waterfall, an hour away. The recent rains had made the road difficult, but the experienced local drivers navigated with unbelievable skill.
At the waterfall the group forded a shallow stream, found a nice site by the river to picnic and ate and hiked.
By two o'clock, clouds had gathered and it began to sprinkle. By the time they reached the trucks, a full rain had started. In a few minutes, the drivers found an empty school bus parked on the road. We stopped and sent our volunteers to sit in the covered bus until the rain stopped. It did not, it began to hail. They all sat for an hour. It rained, hailed, thunder and lightening. The group was wet but in great spirits, laughing and joking.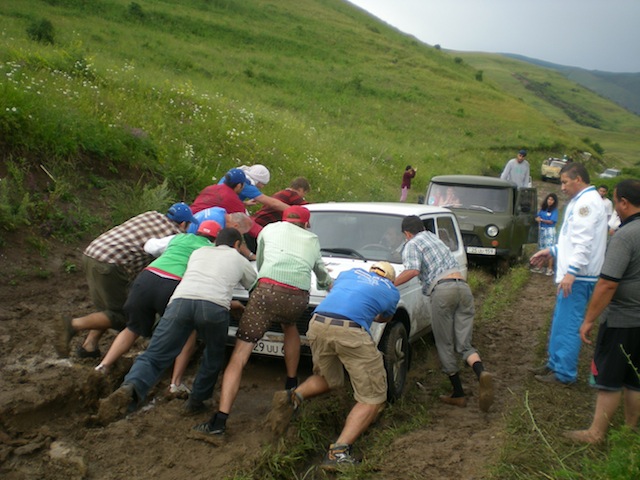 When the rains stopped, they piled back into the trucks to continue home, much slower because of the muddy road.
Soon, they approached a car that was stuck in the road, blocking the path. It was a local family, children and grandparents, out for the day.
Our group was a true miracle for them. All of our 17 volunteers got out and with much laughing, manuvering, slipping and sliding, they managed to get the car out of the mud.
They finally made it back to the village, where the cook had prepared a tea table for them.
Only in Armenia, can you go out in the sun, picnic by a stream, get stuck in the rain, help someone out of the mud and return to "high tea".
This was not a tourist attraction. This is the real Armenia experience. For more photos regarding this excursion, please visit our
Gallery
.