LCO-OTC Volunteers Visit Ancient Sites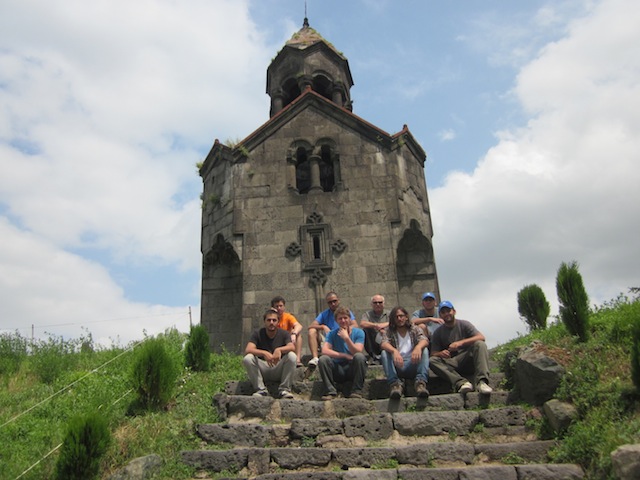 On Sunday, the entire group went on a journey back in time to three historical monasteries. Our volunteers filled up a van and were driven to the city of Vanadzor, Armenia's third largest city. They had stopped for some minor shopping, to get the sounds and sights of city life after their village stay, before heading off into the past.
The monasteries of Haghpat and Sanahin have been designated as UNESCO historical sites. They are located in the northern Lori section of Armenia, two hours away from the campaign site. Since it was a Sunday, they experienced Holy Mass at the same church that has been used for the past eight hundred years. Haghpat is a large complex located on a hilltop, with several smaller churches and library. The 'badarak" could be heard throughout the complex grounds as they were strolling and admiring the views.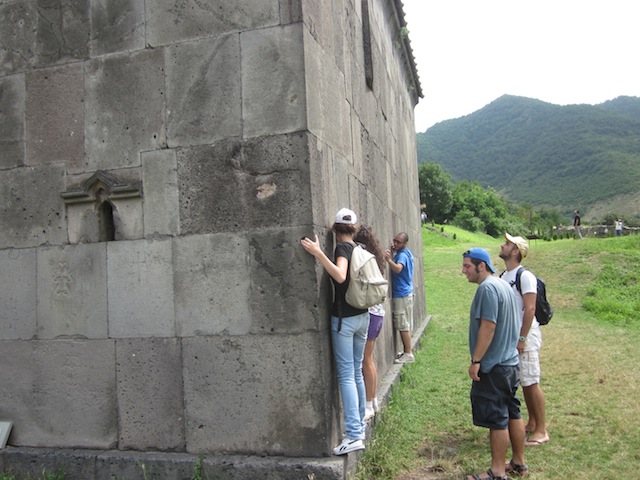 They next went to Sanahin, located a few kilometers away. Sanahin is nestled in the forest, giving it a very surreal life. Our group had realized by this time, that the church site they were working on in Tchichenavank, was from the same century as these monasteries. They tried to walk across the length of the walls for good luck. All of them were excited to return to the village and start working on the church again. Calab from Canada, and Nick from America, both said that it was a very rewarding experience to work on the church after seeing these sites.
After a picnic lunch by an "akhpiour" (natural spring), our final destination was the large church of Odzoun, located in the same region, on a high plateau. The volunteers were very fortunate to meet the priest of the church, since this site is still an active church. They were given a tour of the interior, showing the architectural significance of the various walls, where there also exists a stone carving of the very first depiction of Mary and infant Jesus, in Christiandom. They were given a special blessing by the priest, who was grateful to see so many diasporan youth in this remote area of Armenia.
The volunteers were driven back to Vanadzor for a last look at the city, before returning to their village, eager to begin work the next day.
For more photos of this excursion, please visit our
Gallery
.