Excavations and Excursions
Shirakamut, Armenia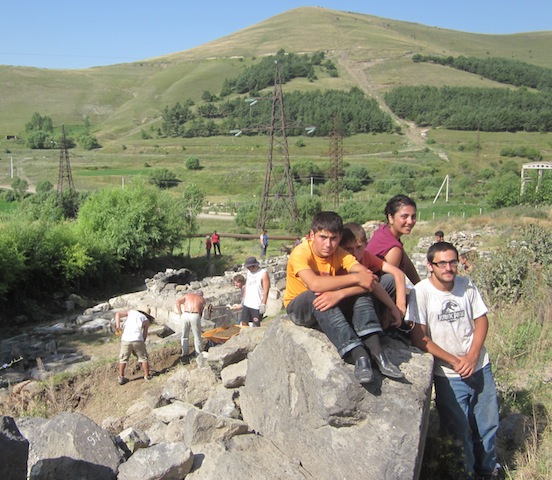 The 19 LCO/OTC volunteers have been busy working and excavating the Tchitchkhanavank Monastery and its grounds. After clearing the ruins of brush and grass, volunteers leveled the area and turned over the tombstones. They got to perform real archaeological work using tools and a sieve to discover ancient artifacts. It was exciting when they found two gold rings and a human skull. Now, archaeologists and historical experts will further analyze those artifacts. Volunteers are really feeling exhilarated and fulfilled in the work they are doing and connecting to Armenian history as they work on this ancient monument.
It is a little bumpy but volunteers have adapted to village life and have begun to intermingle with the locals. Several local children have joined them in the work and villagers are visiting them and bringing them snacks at the work site. During off work hours, some of the group went on hiking expeditions conquering the area's mountains. Joining the group of mostly volunteers of Armenian descent, are two Frenchmen who wanted to join their Armenian friends on a summer adventure in Armenia. Mid-campaign, two young volunteers from Stepanakert, Nagorno-Karabakh united with the group.
For their Saturday weekend excursion, the group headed north to Gumri, the second largest city of Armenia. From Gumri, they had the off-the-tourist path experience of visiting the Armenian-Turkish border and looking across the border to view the ancient cathedral and ruins of Ani. Located right in the demilitarized border zone was the only church of Ani with a cross on the dome. Near the border, the group was very moved being in the actual location of where 200,000 Armenians were massacred and thrown into a ravine bringing alive stories which had been told to them.
Not only was they experiencing Armenian history, they were also traversing the ancient Silk Road which crossed through northwestern Armenia. They came across the ruins of a 17th Century Church which had a hotel and horse stable nearby. Then crossed over the old railroad tracks that used to go to Kars but is not working due to the Turkish border being closed. In Gumri, they grabbed a few pizzas and ate outdoors, and viewed sites including the destroyed All Saviors Church, which was destroyed during the earthquake. Haik, the bus driver from Shirakamut, who was a soldier during the Karabakh war, explained a partial history about Western Armenia and heroes such as General Antranik during the trip.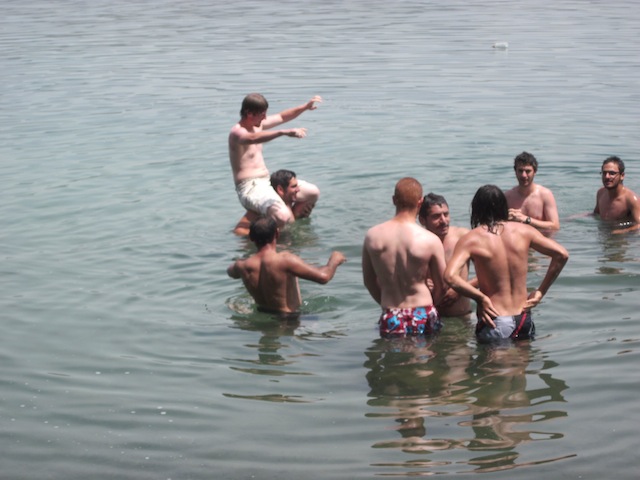 On Sunday, the group headed for Lake Sevan. They went during the holiday of Vartivar, where the tradition is to throw water on each other. At Lake Sevan they climbed to the top of the peninsula to view the two 10th century churches, where Mass was being conducted. After a kebab lunch at the local lake tourist section, the group drove to a more remote and secluded area of the lake to swim and play. A local Armenian family joined in their fun.
The 2011 Shirakamut volunteers are:
Caleb Anspikian – Canada
Mark Attarian – USA
Levon Balayan – Nagorno-Karabakh
Eric Barritault - France
Antoine Barczewski - France
Hovaness Carapetian - France
Haig Choulakian – Canada
Anton Doniguian – France
Azade Doniguian - France
Christopher Geosian – USA
Nicholas Geosian - USA
Carineh Ghafafian – USA
Suren Hambartsoumyan – Nagorno-Karabakh
Pierre Meymarian - France
Camille Paboundjian - France
Sebouh Paul – USA
Sarkiss Rshdouni – Syria
Joseph Terzikhan - France
Meryl Toudjian – Canada