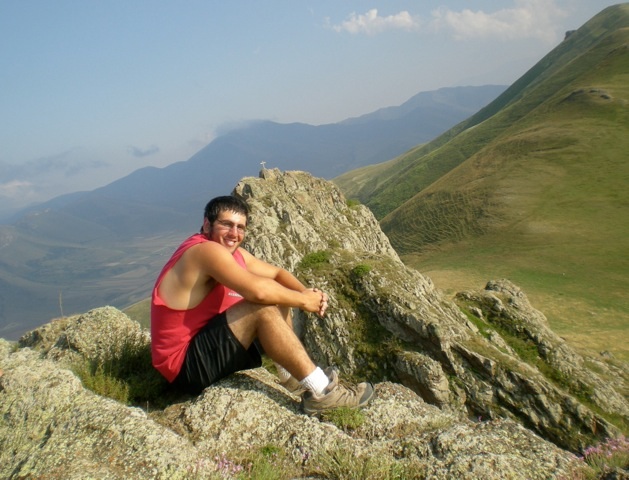 The work of digging a new wall and clearing out bones and rocks continues,but as our group is finishing it's last days of work, there are still some more adventures to be had.
Our undaunted volunteers climbed up a hillside, to a high rock peak considered holy by the villagers.
There, they encountered a stunning 360 degree view of the surrounding villages and area.
The locals had made a shrine at the top, where there were many burned candles and offers of prayer.
On the last Saturday of the work campaign, the volunteers built a campfire, to celebrate the end of their village experience.
After bidding goodbye to the cook and caretakers at the village, our group boarded a mini-bus to return to Yerevan.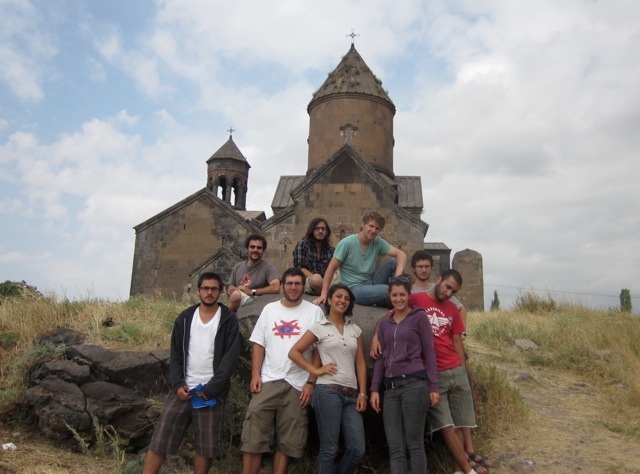 On the way, they stopped at the church of Samosavank. LCO had worked on the partial reconstruction of portions of this church,
from 1997-2001, completing renovations in time for the 1700th Anniversary of Christianity in Armenia.
Our group was again amazed by the stature of our church architecture, and it's stunning location beside a cliff.
Tomorrow, the group heads out for a 2 day trip to Artsakh and historic sites along the way.