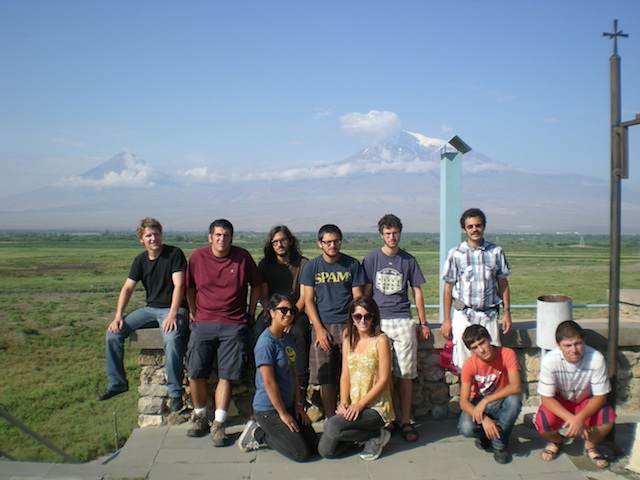 During their stay in the village of Shirakamut, all of the weekend excursions had been in the northern regions of the country. Now, as they returned to Yerevan after completing their village campaign, their excursions traversed the southern and eastern regions of Armenia into Artsakh.
As they traveled along the Turkish border, our first stop was Khor Virap. As Mt. Ararat towered above them, they descended into the pit where St. Gregory the Illuminator was imprisoned. They climbed up the staircases at Noravank, the next historical church, after passing the cave where the oldest manmade shoe of 5,500 years old was found. Continuing across the eastern plain, coming across many villages and streams, the next stop was the town of Goris.They explored the caves in the section of Old Goris, where the fedayees (freedom fighters) had hidden during the battles of Zangezur. Also, in that location was an 18th century church, at the foothills of the caves. As a Vienne, France - Goris, Armenia financed sister city project, the church is being restored under the coordination and voluntary help of the French OTC. Our group was very excited to see that fellow OTC volunteers were also working on historical church restoration as they had been.
They continued to Stepanakert in Artsakh and finally came to a stop on their first day. The next day was spent visiting Gandzasar Monastery and the town of Shushi. In Shushi, past and present history blurred, as the volunteers viewed the destruction that the Artsakh war had caused. They saw the field where the battle for control of Shushi was held, on a plain near the high cliffs. They clammered over the tank that was a part of the war, left as a memorial to our fallen soldiers. That evening, they were free to wander the streets of Stepanakert. There they met some soldiers who allowed themselves to be photographed. As Mark and Nick remarked, "they look the same age as us".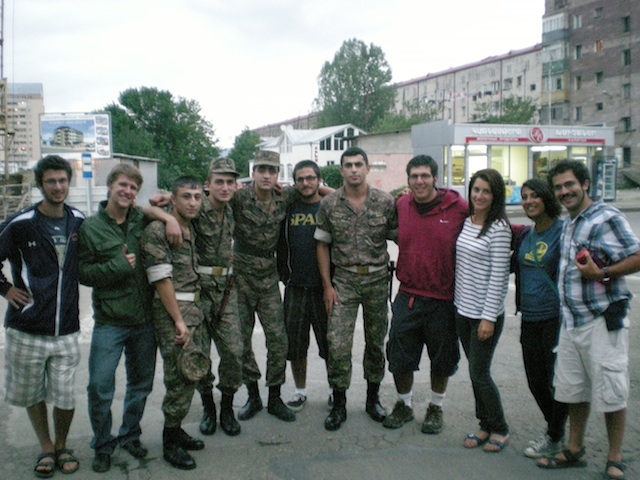 The following day, on the return trip, our group went to Datev Monastery, via the recently built aerial tramway, the longest in the world. It was a foggy and misty morning, giving the monastery an ethereal mood. This was the largest complex they had visited on their four-week LCO adventure.
During their entire four-week stay, they traveled to the north and south, east and west of Armenia. They swam under waterfalls and in lakes, climbed mountains, viewed battle sites, were inspired by our architectural accomplishments, and sweated under the hot sun as they worked on an archaeological dig. They unearthed tangible examples of our historic and rich past while living in the difficult realities of today's rural Armenian villages.