A Story From Our Volunteer - Natalie Shabol
Today we had a regular day at work, but we we're surprised to have special guests at the end of our workday. A big group of people from a Catholic Church group joined us as they learned about the story of Tchitchkhanavank and the reasons behind why the LCO program has taken the time and dedication to work on it. The kids got to also work on the site, just like the volunteers. The wheel-barrowed, shoveled, and used a pick-axel, just as we do everyday. Their fresh energy and excitement got a lot of work done in the little time that they were present, and definitely helped a lot, as we are exhausted at the end of the week.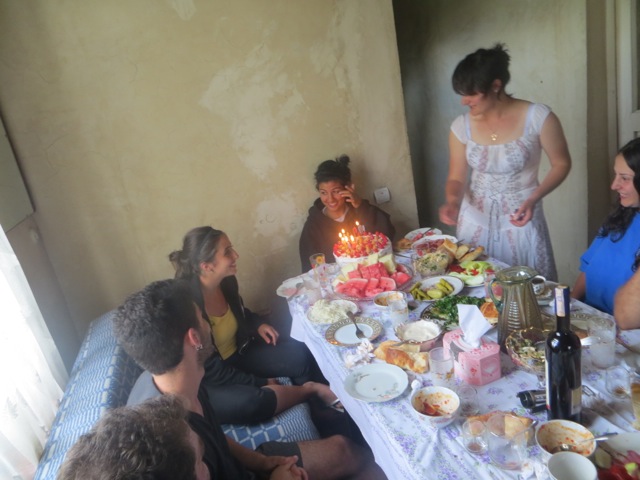 After our day of work, we were invited to a friend's house from the village. Ani, who is a friend of LCO members, also helped videotape and document some of the moments of LCO volunteers. As we entered her home, she and her mother were very welcoming. They had a long table ready for us and they had couches! We haven't seen couches for weeks now! We all sat around the long table, devouring the delicious food. We had potatoes, eggplants, home made raspberry juice, and so much more! As we thought we couldn't possibly take another bite of food, Ani came out with a cake for me, since it's my birthday on Sunday. The cake had candles spelled out Shnorhavor in Armenian. Everyone sang to me as we celebrated, and we found room to eat a slice of the delicious cake Ani baked. Today, we got to enjoy the company of heart-warming and enjoyable people, who live in the village we have been working on.


Natalie Shahbol