Shikahogh Adventure Begins
From the US, France, Canada, England, and Russia and 17 LCO/OTC volunteers from different points in the world slowly arrived in Yerevan. Some had the opportunity to walk around Yerevan and take in city life while others were in Yerevan for a few hours. Once everyone arrived, the group set off on a long journey from Yerevan to our new home for one month in Shikahogh. Our first stop along the way was Khor Virab. It was a pretty clear day and the group took in a good view of Ararat. Volunteers released two white doves for a successful campaign. After doing the tourist stop, we were on our way towards the southern most part of Armenia.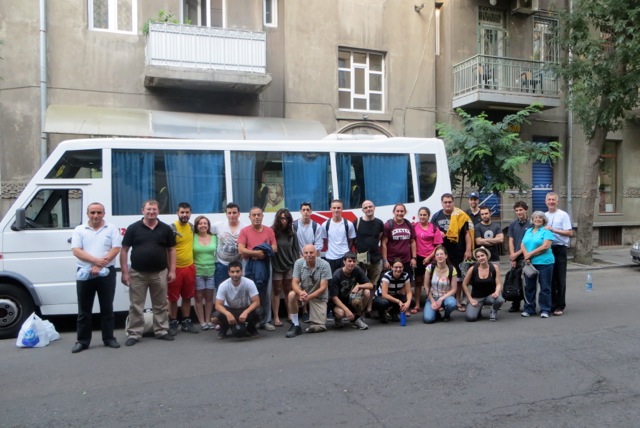 After a 10-hour mountainous and winding scenic drive, with occasional animal traffic of goats, cows and sheep, we arrived in Shikahogh. The village mayor Jirayr Badvaganyan and villagers greeted our group. As the volunteers walked from the main road into the village, they took in the lush mountains, local stream, fruit trees, and a cow resting on the path. The group got settled into their village home where they will all be living together as one big family. Aren Basmadjian, OTC France Board Member, a campaign veteran and group leader for many campaigns, will be group leader living with and overseeing the volunteers. LCO Armenia and project architect Stepan Nalbandian walked the volunteers up to the church to explain the restoration work and what work the volunteers would be doing.
Now it was time to relax and enjoy their first organic village meal al fresco. We had a large group with LCO/OTC board members and project heads joining and welcoming the group on their first day. OTC France President Dr. Aram Gazarian welcomed the volunteers and thanked the mayor and villagers for their support of our group and the project. From LCO-USA Haig and Hilda Manjikian, Nazareth Kevonian and Lena Kaimian came to Armenia ahead of time to review the volunteers living and work conditions and coordinate their trip. After dinner, local village boys took the group on a walk through their village and visit to the village market. The group winded down and started to settle into their home and village.
2013 Volunteers
Alison Snowball -Canada
Stepan Gasparian -England
Azad Derderyan -France
Jean Mouchet -France
Sevan Mouton -France
Mickael Nigoghossian -France
Nayiri Tcharakhoutian -France
Vladimir Areshyan -Russia
Shant DerVartanian -California, USA
Steven Gallatin -California, USA
Arsham Hayrikian -California, USA
Arman Hayrikian -California, USA
Aram Nalbandian -Massachusetts, USA
Adrineh Nalbandian -Massachusetts, USA
Azniv Nalbandian -Massachusetts, USA