Work Progress and Village Stories
The volunteers have done an incredible job in a week's time. The church's floor has been completely cleared of dirt and the stone floor can be seen. Now they are working on the front wall of the church that must be cleared 5 feet out and 6 inches deep, and the north wall outside of the church grounds that must be dug out 3 feet wide and 2 feet deep to reach the wall's foundation. Small hand tools are being used for this work. After getting 5 feet in, shovels and larger tools can be used to dig the area and remove the dirt. As always, archaeologist Arman is on hand supervising this archaeological phase of this project.
After a few intense days of work, the group enjoyed some day trips and visited the majestic 9th Century Tatev Monastery and rode the aerial tram. While there, the group visited the village of Tatev and a previous LCO/OTC restoration project of the village's 17th Century Sourp Minas church. On another excursion day, they again headed to the northern Syunik city of Goris to visit the joint Vienne, France-Goris sister city project, overseen by OCT's Joe Papazian and Jirair Akian. The 1771 Sourp Astvatzatzin church has been renovated and now a few French and local Goris volunteers are finishing up some exterior groundwork so the final "ozhoom"/blessing can be done in September. This site is located in the Old Goris area dating back to the 8th Century B.C. The group saw the church and explored the nearby caves. Goris Mayor Nelson Voskanyan greeted the group and invited them to a nearby café for coffee and ice cream. Afterwards our volunteers had a joint lunch with the French volunteers. Then the group headed off to experience the prehistoric megalithic stones of Karahunj/Zorats Karer, which are 3,500 years older than Stonehenge and 3,000 years older than the Egyptian pyramids.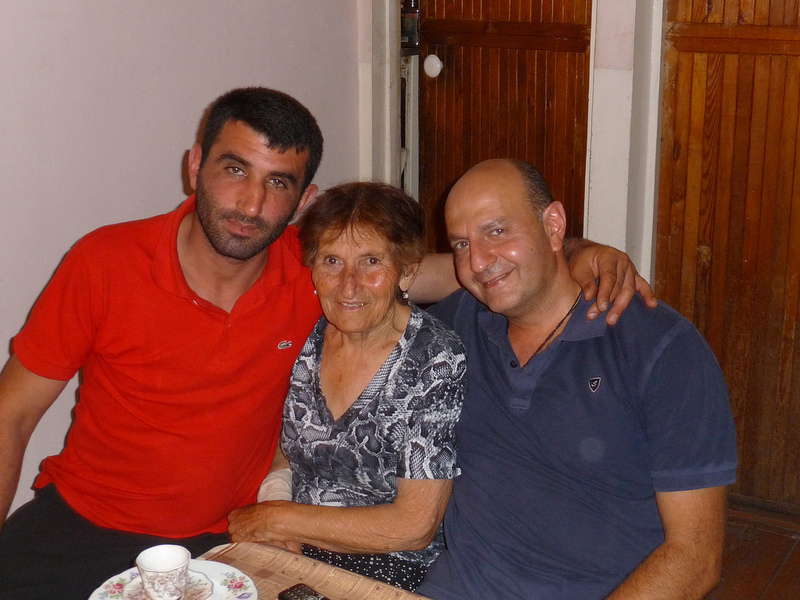 Back in Shikahogh, mayor Jirayr took volunteers to villagers' homes to hear oral history from some of the village elders. 74-year-old Deegeen Marietta told the village fable about how her great-great grandfather wrestled a bear. The family then treated the group to tea and "khorovodz"/barbeque. The village's eldest person, 92-year-old Haroutiun Haroutiunyan, an herbalist-village doctor who delivered some of the village's babies, spoke about the last priest in the village who disappeared during the 1930s. They gave the volunteers "tootee oghee"/mulberry vodka and thanked the group for coming to their village. The volunteers appreciated their hospitality and got a better understanding of the history of the church they were working on and connected with the villagers.