Campaign News 2016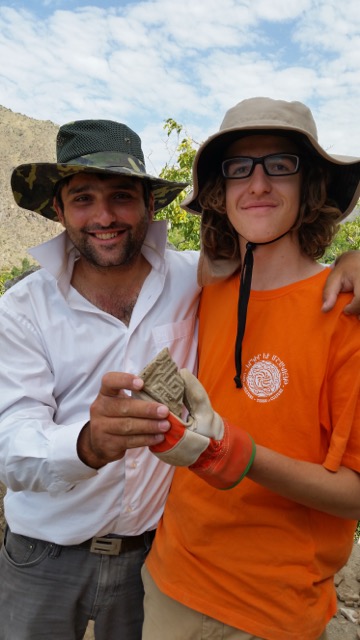 This week, after many days of digging, the volunteers have finally reached the level where they can find artifacts belonging to the church. The volunteers have stopped using shovels and use small tools to finely sieve though the dirt. There was much excitement when they found small pieces of engraved facades of the church, buttons belonging to clergy vestments, pottery and other objects that will be taken either to the museum or used after reconstruction to be placed in the church. It is hard to tell who is more excited, the volunteers or our on site archeologists, Armen Nalbandian and Harutyun Badalyan The mixed group include our first volunteer from Mexico.
After four days of constant digging, our volunteers have almost completed the excavation of the exterior perimeter of the church. Soon they will start building the retaining wall, with local workers, so that reconstruction can safely begin on the church.
After a hard day of shoveling and digging, our group still had energy for an impromptu soccer match with local youth. Everyone enjoyed the camaraderie and LCO volunteers won the match. A rematch will be set up soon.


Our first campaign in the town of Meghri began with fourteen volunteers from various parts of Armenia and diaspora.
St. Hovaness Church is located on a hilltop overlooking the old city of Meghri. Located in the very southern tip of Armenia, in Syunik region, Meghri is a very quaint and charming town.
"There are experiences you shape and then there are experiences that shape you. The LCO Campaign of 2007 in the village of Azat offered me invaluable perceptions into the realities of my fellow Armenian brothers and sisters in a way only a true immersion program can. I urge everyone and anyone who might feel an inkling of belonging to this fascinating country, people, and history to sign up with the campaign immediately. I smile just thinking about what you have yet to experience."
Noushig K, Azat 2007, CA, USA

"Coming back from a 4-day trip to Kharabagh really felt like coming back home, with our family waiting to greet us outside our house. That's when I realised just how attached we'd grown to the place, to our family, to the other volunteers"
Anoosh Gasparian, Azat 2009, London UK

"I went to this trip with no expectations, and came back with a great appreciation for our country.  Life in the village is surreal, the food is beyond delicious and the people are incredibly nice. It was a once in a lifetime experience I will never forget!"  Sam Tahmasian, 2009, CA, USA


"LCO is an amazing concept. It introduced the deprived Diasporan to their land and their people. It is a wonderful introduction to Armenia and something every young man or woman should experience."
Madlene Minassian Ispirian, 1996, 1997, 1998, 1999, Yerevan, Armenia

"My most memprable experience was being so warmly taken care by an old village couple, receiving gifts from them, giving them gifts and establishing bonds."
Naira Der-Kiureghian, Ayroum 2003, CA, USA

"...I know that when I reflect back on this experience I will feel ecstatic about the work we accomplished, the things we saw, and the bonds we forged."
Hovig Saghdejian, Ayroum 2003, California, USA

"Dolma is made with mum's careful instructions, grandmothers eyes found on the faces of children, songs of Ararat are as familiar as the Khachkars dotting the landscape. If it smells like home, looks like home then it must be home."
Datevig Simonian, Shadvan 2004, California, USA

"LCO experience was a revelation for me. It gave me the opportunity to expand my horizons both personally and professionally. One of the most important experiences of my life and an important factor in determining my future goals."
Lara Aharonian, August 1999, August 2001, Montreal, Canada.

"I formed strong bonds with my volunteers, and the difference in backgrounds was refreshing. It was interesting to hear the points of view of different Armenians from other areas of the Diaspora."
Aramazt Kalaydjian, Shoushi 2003, NY, USA

"I loved the simplicity of life in the village, the fresh homemade food is wonderful; that people are the friendliest and most hospitable... the children have the most beautiful faces..."
Sophia Balakian, Shadvan 2004, New York, USA