Meghri Journal: Discovery of Artifacts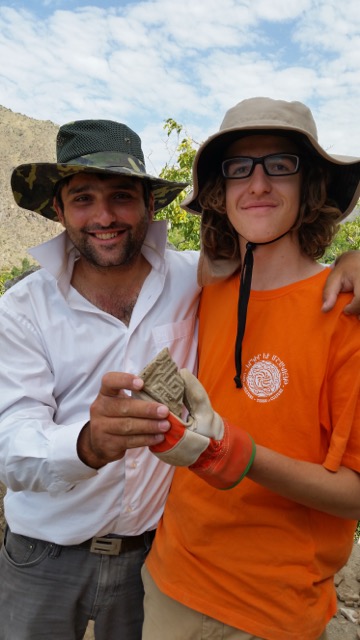 This week, after many days of digging, the volunteers have finally reached the level where they can find artifacts belonging to the church. The volunteers have stopped using shovels and use small tools to finely sieve though the dirt. There was much excitement when they found small pieces of engraved facades of the church, buttons belonging to clergy vestments, pottery and other objects that will be taken either to the museum or used after reconstruction to be placed in the church. It is hard to tell who is more excited, the volunteers or our on site archeologists, Armen Nalbandian and Harutyun Badalyan The mixed group include our first volunteer from Mexico.
There is a small community of Armenians in Mexico. Many, like our volunteer, Franco, are 4th generation; not able to speak Armenian, but still searching for a understanding of their Armenian heritage. By working on the church and unearthing artifacts, and living in this small town, he has a better understanding and appreciation of his culture. He is blending very well with the local volunteers and language does not seem to be a problem when working.