2009 Azat Campaign Wraps Up
From the 6th to the 30th of July, 2009, eight young people from the United States, Canada, England and Armenia took part in the Land and Culture Organisation's July campaign in the village of Azat, near Vardenis in the Gegharkounik region, south east of Lake Sevan in Armenia. The group worked on renovating the gymnasium of the one school in this small village, which has around a hundred inhabitants.
Starting work around nine-thirty each day, the volunteers undertook the gruelling tasks of hauling sand, rocks, gravel and blocks for building, as well as working on walls and tiling.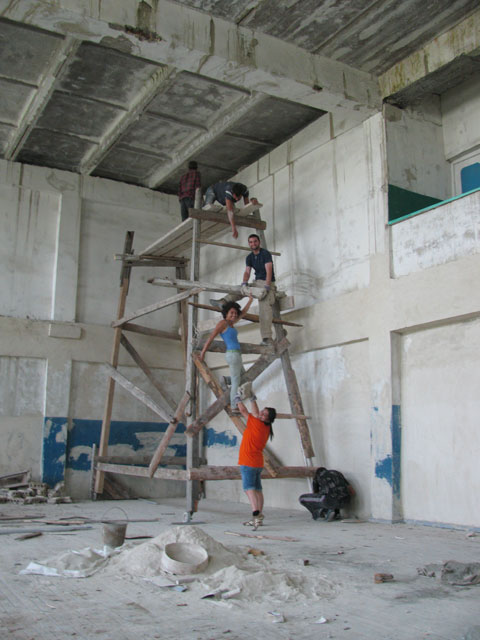 "We mixed cement, built scaffolding and helped out the single ousta we had.", said group leader Sam Tahmasian, a project manager from Burbank, California, using the local terminology for 'master craftsman'.
The group would generally be at work around nine-thirty each day, with a lunch break past noon, and a return for the second round of the day's work from two to five.
"After work we'd either go hiking the mountains nearby, play soccer with the villagers, or have some other activity with the kids. Sometimes we'd have a hard day and just return home and spend time with our host family and their lovely children.", Tahmasian added.
Azat village – with about twenty families, and twenty-four children enrolled in the school – has already been the focus of LCO campaigns for the past two years, with work on classrooms and corridors at the school in 2007, and clean-up and archaeological work in 2008 at the ruins of the local church, including the discovery of buried mausoleums and khachkars (Armenian 'cross-stones').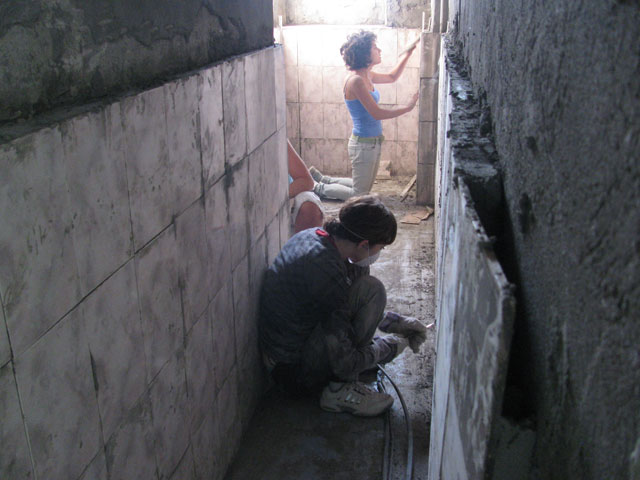 The volunteers this year ranged in age from mid-teens to mid-forties, with most still pursuing their studies. For many, it was their first time in Armenia, and apart from the very unique Land and Culture experience of rural life, the volunteers witnessed the breathtaking natural beauty of the homeland, alongside visiting historical and religious monuments at Sevan, Dilijan, Makenis, Noravank, Khor Virap, Garni, Geghard, as well as joining Birthright Armenia/Depi Hayk on an excursion to Artsakh (Nagorno-Karabakh).
"The experience changes the way you see things, the way of life over here compared to life over there. Plus, the teamwork aspect of working and living with different people just helps you grow.", said Nareg Abrahamian, an apprentice of mechanics from Toronto, who was in Armenia for the first time.
"You end up mixing with people you normally wouldn't,", added Anoush Gasparian, a high school student from London. "Most of the time, I'd be at the cafes, and hraparaks (public squares) in Yerevan, around narrow-minded Diasporans, so this offers an alternative view of Armenia, which Diasporans don't often experience."
Hasmik Turshujyan, a local volunteer pursuing her master's in German, agreed. "It was a big life experience, interacting with different people. I've been to the Sevan area, as I have relatives there, but I'd never been to such a rural place, cut off from everything. But everyone was so nice.", she said, giving a thumbs-up sign that said it all.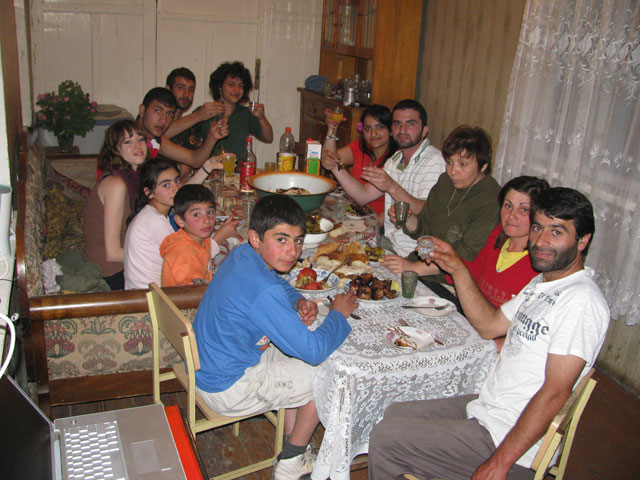 The Land and Culture Organisation's July 2009 campaign included –
Nareg Abrahamian, a student from Toronto, ON,
Anoosh Gasparian, a student from London, England,
Robert Khachikyan, a student from Abovyan, Armenia,
Neiri Lanman, a student from Los Angeles, CA,
Alla Sargsyan, a professional from Yerevan, Armenia,
Sam Tahmasian, a project manager, from Burbank, CA,
Hasmik Turschujyan, a student from Yerevan, Armenia, and
Kenar Yegyayan, a designer from Burbank, CA.
LCO's work in Armenia will continue in August, with a group from France carrying on the long partnership of Land and Culture with the regional hospital in Shoushi, Artsakh (Nagorno-Karabakh).