LCO restoring two historical Armenian sites
Pasadena, CA – In its 34th year, the Land and Culture Organization (LCO) is returning to Armenia again this summer to continue restoration work on two historical Armenian sites.
Last year, 37 dedicated volunteers from Armenia, Canada, England, France, Syria and the United States spent their summer restoring their Armenian legacy. This summer's campaign is gearing up, and volunteers from several countries have already begun to join.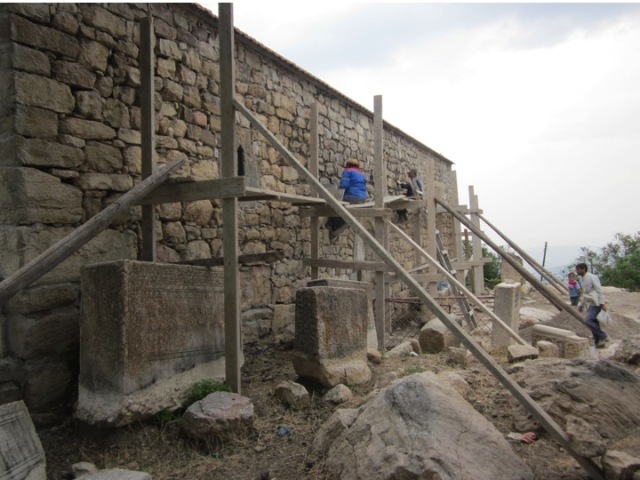 This upcoming summer, LCO will finalize the renovation of the 17th Century Sourp Astvatzatzin Church in Yeghvard. The Yeghvard village is located in the southern Syunik Province on the border of Armenia and the liberated areas surrounding Artsakh. The project began in 2007, and the church will be consecrated this August. A second group of volunteers will work on the Tchitchkhanavank Monastery in the Shirakamut village in the northern Shirak Province near Spitak. Shirakamut was completely destroyed during the 1988 earthquake. This caused further deterioration of the ruins, which built on the plan of a Christian cross from the era of the 6th and 7th centuries. This project began in 2008 and will continue for the next few years.
In Yeghvard, volunteers will be completing the surrounding walls and repositioning the gravestones and memorials on the church grounds. Construction of Tchitchkhanavank's foundation walls will continue to be rebuilt. Architects, historical experts, skilled craftsmen, and LCO Board Members oversee all restoration projects.
This summer's Land and Culture campaign will be from July 18 until August 12. In addition to the work, volunteers will enjoy weekend excursions throughout Armenia. Volunteers will have an opportunity to extend their stay and participate or attend the pan-Armenian games being held in Yerevan on August 13-21. To participate in this exciting opportunity, applications must be received on-line or via mail by June 1st.