LCO RENOVATING HISTORIC TCHITCHKHANAVANK AND SHIKAHOGH CHURCHES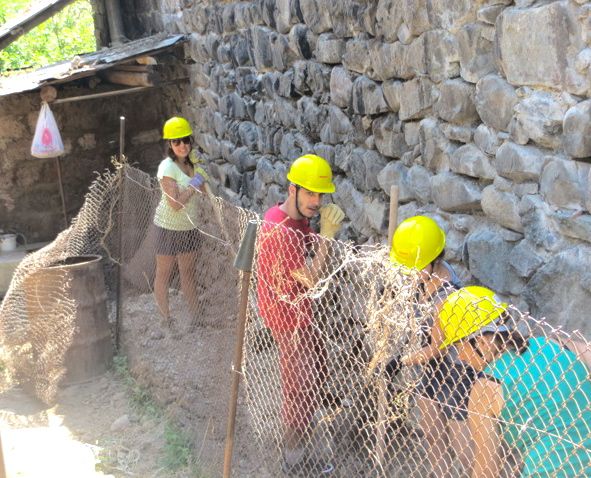 Pasadena, CA - This past summer, 20 LCO (Land and Culture Organization)/OTC (Organisation Terre et Culture) volunteers from Canada, France, Switzerland, the United States, and local Armenians participated in two historical preservation campaigns in Armenia.
In the southern Syunik village of Shikahogh, near the lush Shikahogh forest preserve, the renovation of the 16th Century Sourp Stepanos Nakhavegah Church entered its second year. In 2013, volunteers conducted the initial phase of archaeological digs with an Armenian archaeologist. This summer, under the direction of a historical architect, volunteers prepared the foundation, strengthened compromised walls, removed artificial additions, and stripped the church down to the original stonewalls. In 2015, the restoration will begin.
In the northern Shirak region, work on the final phase of rebuilding Shirakamut's 7th Century Tchitchkhanavank Church quickly progressed. The village of Shirakamut is located a few miles from Spitak, the epicenter of the 1988 earthquake. During the summer of 2015 campaign, volunteers will carry out finishing touches on the project in anticipation of the completion and consecration of Tchitchkhanavank in August 2015.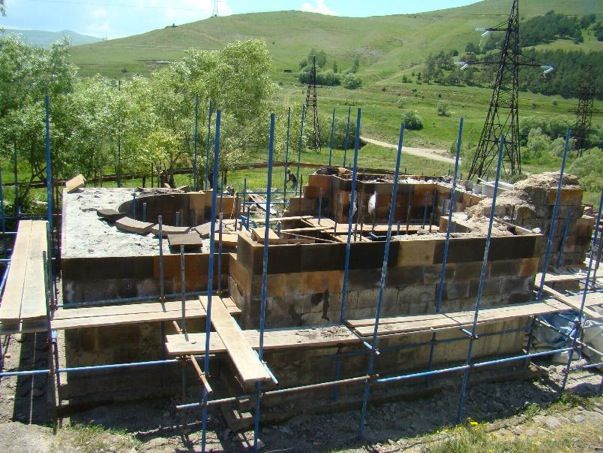 2015 will mark the 38th year LCO/OTC and its volunteers have been conducting or participating in historical renovation projects throughout historical Armenian lands in Iran, Syria, Armenia, Artsakh, and Turkey. The re-opening of Tchitchkhananvank will mark over 20 completed projects by LCO/OTC of Armenian historical value or fulfilling community needs.
In the summer of 2015, volunteers will have an opportunity to participate in three campaign sessions during the months of July and August. Final campaign dates will be announced in spring. For interest in becoming a volunteer, visit www.lcousa.org for further information.
For over 35 years, LCO has been one of the earliest volunteer groups in Armenia and Artsakh. It continues to be the only Diaspora non-profit organization devoted to restore, renovate, and rejuvenate the historical monuments and sites of our nation. It has performed this mission through its summer campaigns, by volunteers of every age from the Diaspora, Armenia, and Artsakh. To help our mission or join in our summer volunteer program, you may reach us at www.lcousa.org.www.lcousa.org.